My Return to Racing at Indy
By Mike Wallace

Well, we did it. A group of people came together in 60 days to create an opportunity for me to go racing after a five-year break. Since this whole adventure began, the No. 1 question I have received was, "Mike, why return to racing and why at Indy?"

We pretty much covered that leading up to the race, but now that its over I've had a few days to think about it and I have to tell you - it was pretty damn cool to race a NASCAR Xfinity Series car again.

I drove for Johnny Davis for several years and his JD Motorsports w/Gary Keller team before. We've always stayed in touch and when my wife Carla and I started talking, she was all for me getting back behind the wheel.

When they announced the Xfinity Series was going to run the first NASCAR road course race at Indianapolis Motor Speedway, I knew that's what I wanted. You see, I'm the only NASCAR driver to have been part of every inaugural event at the famed Brickyard starting with the first Cup race in 1994 to the first Xfinity Series race and now the first one on the road course. And, making it even a bigger deal, we were the first NASCAR race to ever share the same track with the Indy Series.

Roger Penske has been a big part of our family for years with my brother Rusty racing for him in the No. 2 car. I was able to race for Roger a few times and when they announced he bought the track and the series, I knew I wanted to make return there.


Why I got out
Five years ago, I was diagnosed with a severe blockage in my arteries and I had no indication something was going wrong. I did find out the hard way when I went to the hospital and they gave me the news.

One triple-bypass surgery later, they told me it was good they caught it in time. As a result, I had to get out of the car and couldn't race anymore. That hurt more than the surgery, to be honest.

Racers only know how to do one thing - race. Now, I suddenly couldn't and I was forced to get out the car thinking my career had ended. I was okay with it ending at some time, I just wanted it to be under my terms and not forced into my final checkered flag.

As you can see after Indy, it wasn't.


Putting it together
Now that the race is over and I've had some time to think about it, I wanted to share the experience for you because it was so incredible from start to finish.

We put together the deal with Johnny Davis and agreed on the terms. But, like any racer, you want to get a sponsor to get involved so you can get the best equipment, tires, engine, etc. because you want to make a good showing.

Did I think I could win the race? Well, I've won nine other NASCAR races, so why not one more? In reality, my goal was to have an admirable run, bring the car home in one piece and have a good showing for our sponsor.

The sponsor we were able to bring on board was Market Scan, an automotive technology company out of California. Rusty West is the CEO and co-founder and the best part is, he loves all types of racing.

Mark Juron and I talked and I let him know what we were doing for Indy. I asked him to keep us in mind if he thought of any companies that might be interested in coming on board.

Well, he makes a call to Rusty. Mark calls me and says to call Rusty and talk to him. You talk about two people connecting right from the beginning, it was incredible how great talking to Rusty West was right from the start.

He agrees to come on board, we talk about having his best customers coming from all over to join us, people in the pits wearing Market Scan crew shirts, hats and having a great time. It was going to be awesome for everyone.


Damn COVID
We had multiple calls with people from California, NC and New England all working together to make this a great experience for everyone for weeks leading up to Indy. Like I said, Rusty and his Market Scan team were making big event plans, we were in NC and it was looking to be a huge event for everyone.

THEN ... we got word no fans were going to be allowed in the pits or stands at Indy. It really was deflating and I thought we were going to lose the deal. But, Rusty is a man of his word and we went forward to make it as good as possible. We just had to scale things way back, but everyone was in the same boat in the industry.

The one thing I was looking forward to was seeing the fans in the garage and on pit road. After five years of being away, I wanted to see them just to reconnect and let them know how much I appreciated their support through the years and after my surgery.

There was an outpouring of support when we first announced the deal on Social Media, which is nice and every comment is appreciated. There's just something about the interaction of shaking hands, taking pictures and signing autographs that can't be beat.


Tying in Danny Garcia and his Charitable Walk
Rusty West called to let me know what I thought about tying in a charitable cause with the race. Once he stared to explain to me who Danny and Jackie Garcia were, the great work he has done for years through his Global Walks and such, it was a no brainer.

Danny is a Vietnam Vet, was involved with the Bay of Pigs serving in the Marine Corp, retired law enforcement and ordained minister. The work he has done through his Global Walks covering 22 countries and millions of miles has raised millions of dollars for first responders, veterans and children's causes.

As part of the deal, we put the charity walk on the car, put together a wrapped RV with his picture, a picture of the No. 0 Market Scan Chevrolet and the various charities on there. He is going to use this in between his walks as his wife, Jackie - also retired military from the Air Force - drives it so they have a place to stay along his journey.

The national attention we received for tying in Danny was incredible for Market Scan and the race team. People knew what the cause was about and who Danny was the minute we got to Indy. He really is the epitome of an American hero.

To help and/or follow along during Danny's journey, people can do so right here www.AmericaSalutesYou.org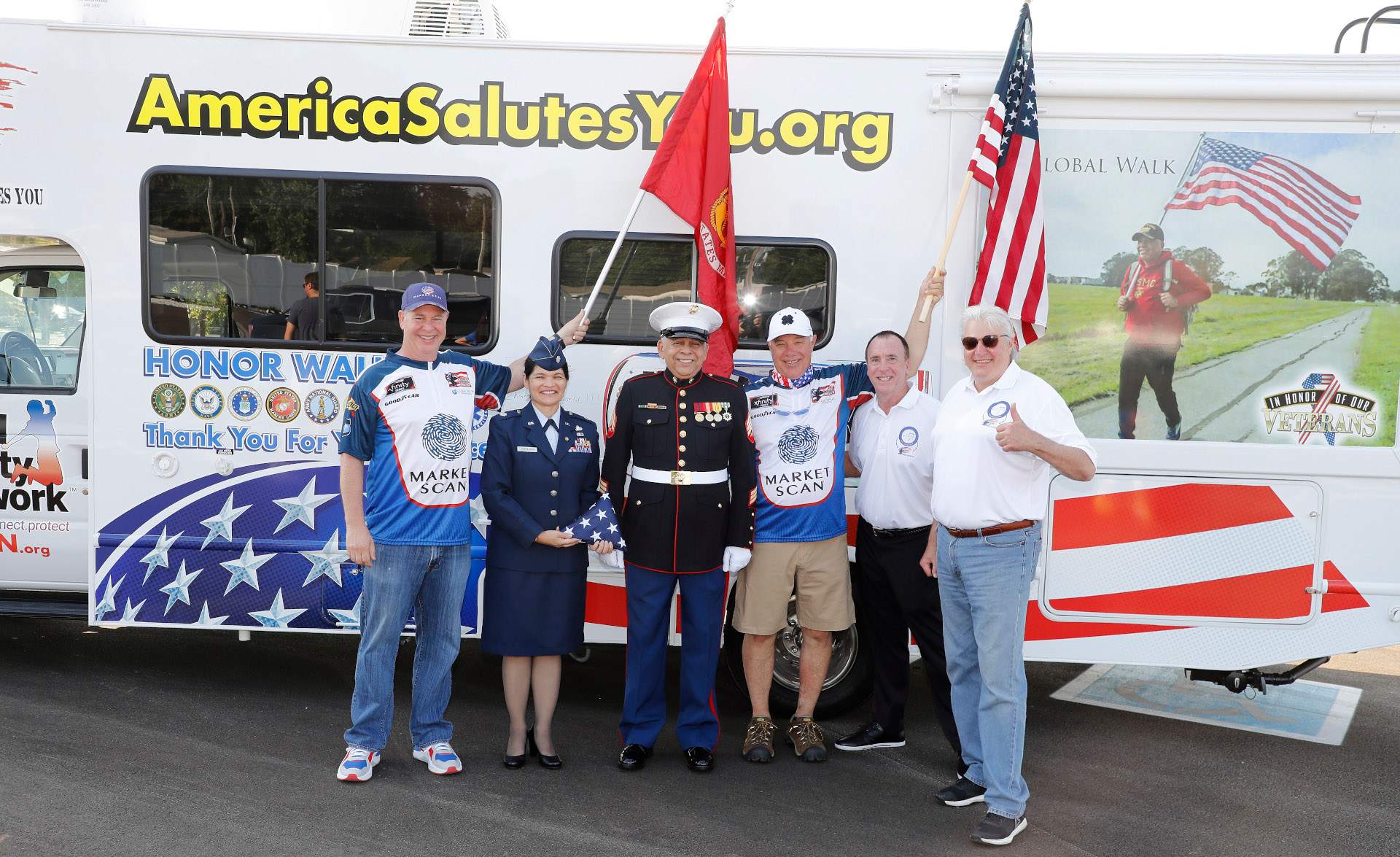 Oh yes, the race
Mixed in this whole thing was the race itself. Me getting back behind the wheel was a big deal to me both personally and professionally. Because this was the first Xfinity race on the road course and nobody had any notes from years past to work from, they gave us two practice sessions - thank goodness.

When we were lined up for the green, I told myself I was going to be cautious for one or two laps. However, nobody else was and they started getting after it and I ended up dropping a few positions from my starting place of 14th.

The track was challenging and I started to get more comfortable and figuring out my braking zones going into all the corners. I started to get better and kept improving my shifting points for all the turns.

One thing I was proud of was getting on and off pit road without any penalties for speeding or pit box violations. I became faster as the race went on and I could feel myself improving.

Then, as we got closer to the end I made a few errors, some spins took place in front of us that I had to avoid and that cost us track positions. I didn't get caught up in them, just got slowed down enough to annoy me and keep from having a better finish.

In the closing laps, we were in position to earn a top-20 finish until I messed up in turns 1 & 7 and ended up in the grass. Cars went by us and I dropped from the top 20 into 24th at the checkered flag.

All in all, it felt good to be back in the car after five years and competing in a NASCAR race. Will I do this again? Stay tuned.


Do I want to race again?
Let me answer that with two words - heck yeah. I will be honest, I already said how tough it was to walk away. This sport is all consuming on a mental and physical basis, the mental part is even more tough when you can't race.

The experience, feel behind the wheel and fan reaction I have had has really energized me to do this again. You can bet I have talked to Rusty West about some more races, and he seems to be thinking about it, too.

Will it be a road course again? An oval? Plate race? I don't know, but I can tell you - as far as I'm concerned - that was NOT my last NASCAR race.

Like I said, racers are racers. I'm a racer, and I want to race again.


Thank you
I can't thank Rusty West and everyone at Market Scan enough for being part of the race. It's incredible what people can do when they work together to achieve a goal.

To everyone who worked on this deal, putting it together, making plans, paint schemed, vinyl wrap, the media for covering us, the team working on the car, pitting the car, those who helped get the word out about what we doing. Special thank you to my wife, Carla, for her love and support in doing this. My son Matt for driving myself and his sister Lindsey in the bus up to - and back from - Indy, my daughter Chrissy for being there along with my mom, brothers Rusty and Kenny for their support.

There are really only two words to say

Thank you. Oh, three more - see you soon.